This information is correct as of the morning of Monday 30th 2020.
Hi all, we've had quite a few questions on our Hampshire MS Support forum relating to whether you should still go to work, and also how you can manage your finances if you need to stop going to work or cannot work.
I've written down some answers for you and some useful links 👇
Is it recommended that I don't go to work?
The 'vulnerable group', according to the government, includes people with MS (true on 24th March 2020)

So the government highly recommends we work from home if possible, and if not, to not work if at all possible. It also states that employers should support you to work from home, or not work if that is not possible.

At present, the MS Society recommends that if you have MS it is important for you to, at the very least, take as many of the self-distancing steps as possible – stay at home! – and in some cases, to fully self-isolate.
If you fit into the 'extreme' risk you must self-isolate, so definitely don't go to work!

You need to know that THERE ARE 2 SUBGROUPS within the 'vulnerable' category:
increased risk of severe illness
'extreme' risk of severe illness

If you fit into the 'extreme' risk category, which includes anyone on a DMD that causes a significant immune suppression, you need to not just self-distance but self-isolate, otherwise known as shielding. So you should definitely not be working if you can't work from home.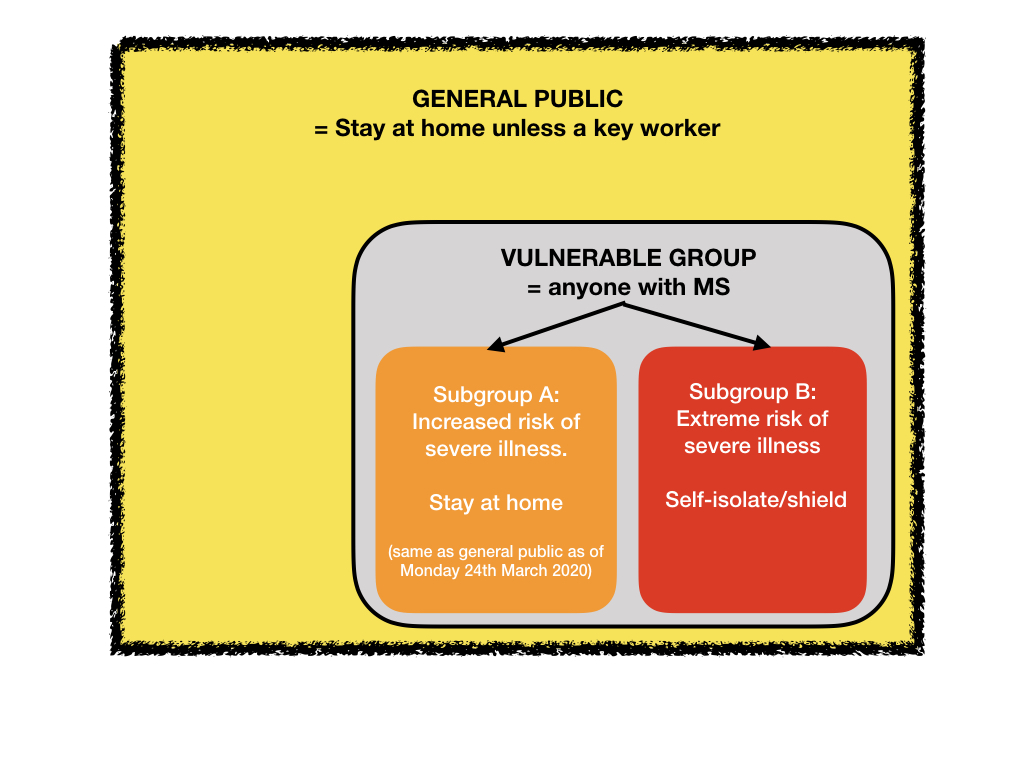 According to the MS Society, in terms of your MS, you fall into this 'extreme risk' category if you:
have significant difficulties with breathing or swallowing (for example if you need artificial feeding)
OR
have taken Alemtuzumab (Lemtrada) or Cladribine (Mavenclad) within the last 12 weeks
OR
have had HSCT treatment in the last 12 months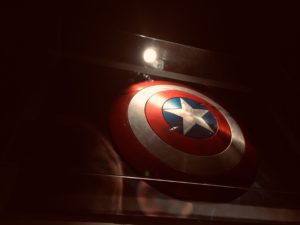 Also, bear in mind that, even if you don't get the NHS text, you might still be in this category, you just didn't fit into the initial blanket-text group – There a few nuances to the general category. Levels of immune-suppression differ between DMDs, but also differ from person to person. And if you have particular difficulty with your breathing or swallowing due to your MS, you may not have fitted into the blanket NHS text, but do qualify for self-isolation/shielding.
So MS teams are also looking at their own patient lists and contacting anybody who, whilst they didn't fit into the blanket NHS text group, nevertheless due to their individual circumstance should also be considered to be in the 'extreme risk' subgroup and so need to follow the extra steps to isolate/shield. The MS team might also be able to alert the text service that you need to be added to this list. I've heard of several people on Ocrevus who have been told they are also in this 'extreme risk' group.

And, of course, you can fall into this category for reasons other than MS – do check out the list here to see if you qualify for a different reason.

For more info, visit my blog post COVID-19 – Am I in the vulnerable group? What do I do?
How can I prove to my employer that I shouldn't be going into work?
If you should not go to work because you are in the extreme risk or increased risk category, you can use:
Your text from the NHS Coronavirus Service
A message or letter from your MS team stating you need to take extra precautions
If you haven't yet received an NHS text or a message from your NHS team, you can also try using these pages as evidence:
The MS Society guidance. It mentions particular DMDs that would put you into the 'extreme risk' category, as well as guidance that anyone with MS is in the vulnerable category.

Government guidance to employers, which states: "employees from defined vulnerable groups should be strongly advised and supported to stay at home and work from there if possible"
If you have MS, this statement from the government applies to you! – if you have MS, then you are automatically defined as being in the vulnerable group.
Remember that for the first 7 days of sickness absence, you can self-certify and don't need a note from your doc or the NHS. The Citizens Advice Bureau (CAB) guidance implies that this 7 day grace period could also apply if you don't have Coronavirus but do have to self-isolate due to coronavirus. Worth checking out.

Not able to work from home?
This information is correct as of Monday 24th March 2020
1. Statutory Sick Pay (SSP) for those who need to self-isolate
If you are in the 'extreme risk' subgroup of the vulnerable group, and so need to self-isolate, you are entitled to sick pay at the very least – see the ACAS' webpage for more details. You can get an isolation note to prove this from this NHS webpage.

Currently, sick pay (SSP) is £94.25 per working week (due to go up to £95.85).

You have to earn a minimum of £520 per month to get statutory sick pay. If you don't earn this much, your employer should supply you with an SSP1 form so you can claim payment through The Job Centre.
2. Help given to your employer to pay you if they would otherwise have to lay you off
Your employer can access something called the Coronavirus job retention scheme to get funds to pay you some wage whilst you cannot work.
In particular, with this government help, your employer can pay you 80% of your wage up to a limit of £2500 per month. Your employer might need your agreement before they can go ahead with this. See this ACAS link for more details.
3. Self-employed?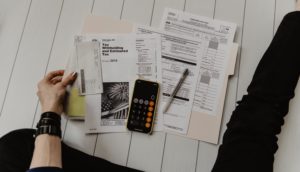 If you satisfy the following:
you are self-employed and earn less than £50,000 a year
you can provide evidence of earnings through tax returns
you fit the eligibility criteria in terms of your profits
more than 50% of your income is from self-employment (this is affected by whether and how you pay yourself in dividends)
then the government will provide a payment to you in June, representing 3 months of earnings, up to £2,500 per month. This grant may well be extended. For more details and further eligibility criteria, see the government's page on COVID-19 and self-employment.
Important! If you have not submitted your Income Tax Self-Assessment tax return for the tax year 2018-19, you must do this by 23 April 2020.
The government have stressed that should not contact anywhere to apply for this government grant – HMRC will contact you if you are eligible for the scheme and invite you to apply online.
If you do not satisfy the eligibility criteria to access this government grant, then, according to,Disability Rights UK , your options are to claim Universal credit and/or consider a business loan.
4. Do you rent?
The Government has announced measures to make it illegal for you to be evicted for at least 3 months.

Landlords are being given a 3 month mortgage payment holiday on your property if they need it.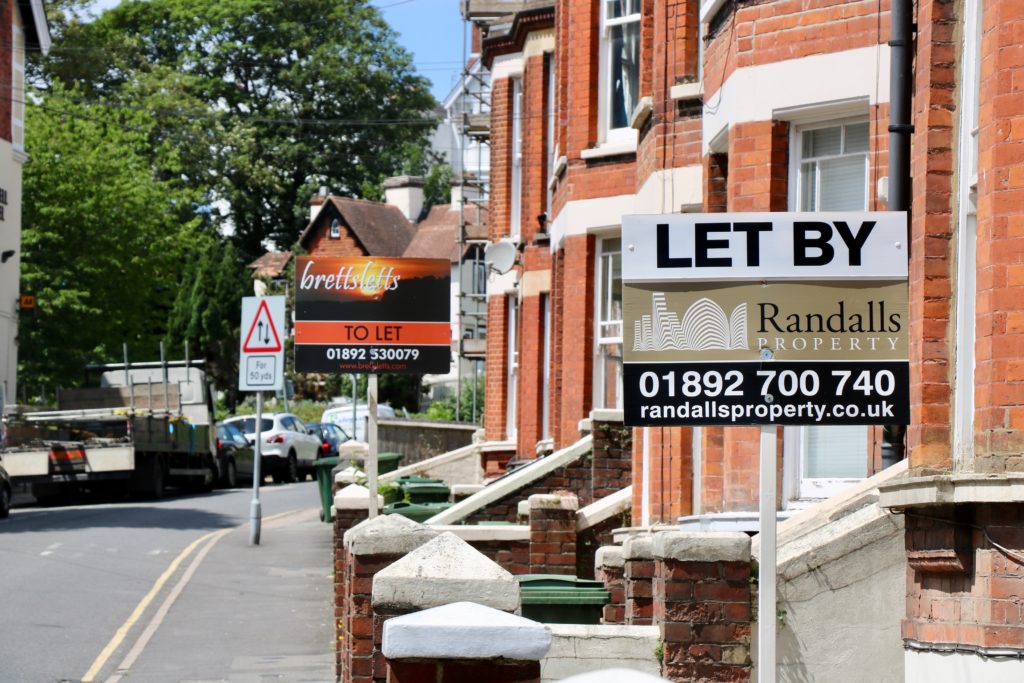 Are you eligible to claim any benefits now? Head to the government's Universal Credit website on Coronavirus for information on whether you can claim any benefits whilst you do not have your normal income, and also read their page on support for benefit claimants, employees and businesses.
5. Time off to look after a dependent
If you can't work from home and need to look after a dependent, such as a child, relative or elderly neighbour because they have coronavirus, your employer might be obliged to let you take this time off. It is up to them whether they will pay you or not whilst you are off work. If the dependent lives with you, then you must self-isolate, which means that you are then entitled to statutory sick pay. See the relevant ACAs page here.
6. Other help
For cases where your employer has decided to lay off its staff, close its business for a short time, reduce hours, or request its employees use their holiday now, see this ACAS webpage.
Check out Turn2Us for info about what you might be eligible to claim – Statutory sick pay or Universal Credit to name a few.

Other help with bills, including how the government might support mortgages (including mortgage holidays), rents, free school meals, self-employment etc. is being defined in real time. For the government announcements on future support, see their news and communications webpage.

for the most up to date government information for employees and employers see Guidance to employers and businesses and Support for business.
FURTHER DETAILS
For the government announcements on future support, see their news and communications webpage.
For extra support being put in place for benefit claimants, employees and businesses, visit this government webpage.
I'd also recommend the following links for further information:
If you'd like to receive an email when new blog posts are available, don't forget to subscribe – scroll to the top of this page to the Subscribe box, enter your email address, and click the 'Notify Me' button. Rest-assured ManyLemons.com never spams.
And do leave a comment below or email me at melly@manylemons, I love to hear from my readers!