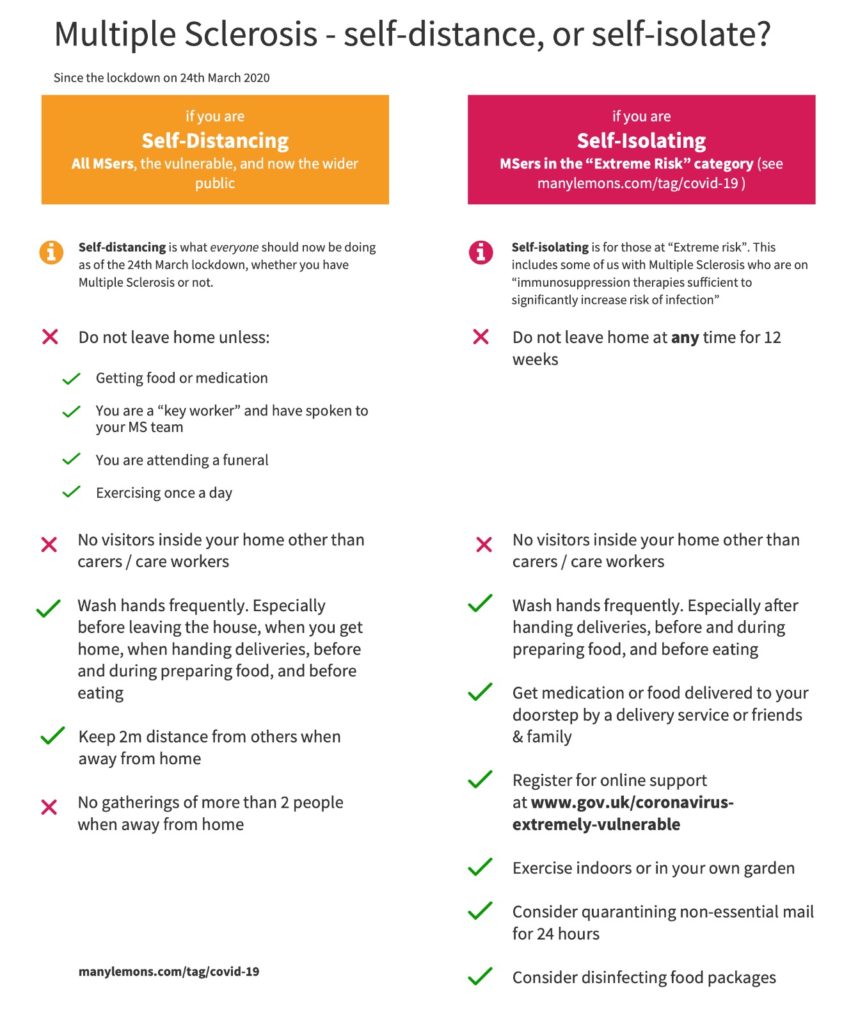 Which column do I fit into?
The 'extreme' risk category (right hand side of the diagram) includes, but isn't confined to:
those with 'significant immune suppression' – which applies to some people on DMDs (disease modifying drugs)
those with breathing and swallowing problems.
If you have MS but are not in the 'extreme risk' category, then you are still in the 'vulnerable' category (left hand side of the diagram).
Check out my blog post on the vulnerable category to find out whether you are in the 'extreme risk' category (right hand column) or just in the wider 'vulnerable' category (left hand column) – there are some nuances. Your MS team might deem you to be in the 'extreme risk' category even if you are not taking one of the DMDs that causes significant immune suppression or have breathing or swallowing problems.

What does Shielding mean?
Shielding refers to the steps you need to take if you are in the 'extreme risk' subgroup, to shield yourself from others.
Shielding in practical terms is the same as self-isolating for 12 weeks, but with added extras such as not coming into contact with your housemates, not sharing towels, cutlery etc. with your housemates….see this page for the exact criteria. Obviously this might not be practical in many cases.
More info
Check out my other blog posts in the COVID-19 series, including what the 'extreme risk' and 'vulnerable group' mean in practice, and what to do about working.
Note: this information is correct as of Monday 24th March and is subject to change. Please visit my About section for the Disclaimer.
If you'd like to receive an email when new blog posts are available, don't forget to subscribe – scroll to the top of this page to the Subscribe box, enter your email address, and click the 'Notify Me' button. Rest-assured ManyLemons.com never spams.
And do leave a comment below or email me at melly@manylemons, I love to hear from my readers!